Board of Directors
ANDREW L. TAN
Chairman and President
Mr. Tan is the founder of Megaworld and has served as its Chairman and President since its incorporation in 1989. He pioneered the "live-work-play-learn" model in real estate development through Megaworld's integrated township communities, fueling the growth of the business process outsourcing BPO industry. He embarked on the development of integrated tourism estates through the publicly-listed Alliance Global Group, Inc. and Global-Estate Resorts, Inc., which he both chairs, while continuing to focus on consumerfriendly food and beverage and quick service restaurants.
Mr. Tan serves as Chairman of the Board of Empire East Land Holdings, Inc., a publicly-listed subsidiary of Megaworld, and Suntrust Properties, Inc., a subsidiary engaged in the development and marketing of affordable housing projects. He also serves in the boards of other Megaworld subsidiaries, including Eastwood Cyber One Corporation, Megaworld Land, Inc., Megaworld Central Properties Inc., Townsquare Development Inc. and Richmonde Hotel Group International Limited. He is also the Chairman of Emperador Inc., a public-listed company which owns Emperador Distillers Inc., the leading brandy manufacturer and distributor in the Philippines. Mr. Tan is Chairman of Megaworld Foundation, the Company's corporate social responsibility arm, which primarily focuses on the promotion of education through scholarship programs for financially handicapped but deserving students, and supports causes that promote poverty alleviation, people empowerment, social justice, good governance and environmental conservation. He is a Director of Travellers International Hotel Group, Inc., a publiclylisted company, which owns Resorts World Manila, and the food and beverage companies, Emperador Distillers, Inc. Alliance Global Brands, Inc. and Golden Arches Development Corporation.
KATHERINE L. TAN
Director
Ms. Tan has served as director of Megaworld since 1989. She is concurrently a Director and Treasurer of the publicly-listed Alliance Global Group, Inc. and Emperador Inc. She has extensive experience in the food and beverage industry and is currently Director and Corporate Secretary of The Bar Beverage Inc. and Director and President of Raffles & Company Inc. and Choice Gourmet Banquet Inc. She is also a Director and Treasurer of Alliance Global Brands, Inc. and Emperador Distillers Inc., respectively.
KINGSON U. SIAN
Director
Mr. Sian has served as Director of Megaworld since April 13, 2007. He joined the Megaworld Group in September 1995 as Senior Vice President and is currently Executive Director of the company. He is concurrently Director and President of the publicly-listed Alliance Global Group Inc. and Travellers International Hotel Group Inc., respectively. He is the Chairman and President of Prestige Hotels & Resorts Inc. and Luxury Global Hotels and Leisure Inc.; and the president of Eastwood Cyber One Corporation and Manila Bayshore Property Holdings Inc. Mr. Sian was a former Vice President of FPB Asia Ltd/First Pacific Bank in Hong Kong from 1990 to 1995. Prior to that, he was connected with Citicorp Real Estate Inc. in the United States from 1988 to 1990. He graduated from the University of the Philippines with a degree of Bachelor of Science in Business Economics. He obtained his Master's Degree in Business Administration for Finance and Business Policy from the University of Chicago.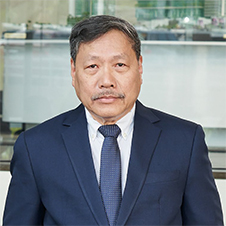 ENRIQUE SANTOS L. SY
Director
Mr. Sy has served as Director of Megaworld since July 2009. He was formerly a Vice President for the Corporate Communications & Advertising Division of the company until his retirement in March 2011. He is concurrently a Director of the publicly-listed Empire East Land Holdings Inc. and a Director of Eastin Holdings Inc. and First Oceanic Property Management Inc. He is also a Director and the Corporate Secretary of Asia Finest Cuisine Inc. and Corporate Secretary of Empire East Communities Inc. Mr. Sy previously worked as Advertising Manager of Consolidated Distillers of the Far East Inc., Creative Director of AdCentrum Advertising Inc., Copy Chief of Admakers Inc. and Peace Advertising Corporation, and Creative Associate of Adformatix Inc. Mr. Sy graduated with honors from the Ateneo de Manila University with a degree of Bachelor of Arts in Communication Arts.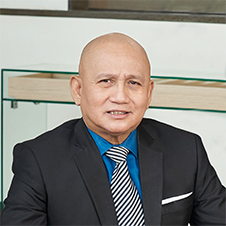 CRESENCIO P. AQUINO
Independent Director
Atty. Aquino is currently the Managing Partner of The Law Firm of CP Aquino & Partners. He is a graduate of the San Sebastian College Manila with degrees in Bachelor of Arts and Bachelor of Laws. Mr. Aquino has extensive experience in both the public and private sectors as Director of Clark Development Corporation from 2012 to 2016, Independent Director of Global-Estate Resorts Inc. from 2010 to 2012, Independent Director of Suntrust Home Developers Inc. from 2009 to 2012, Corporate Legal Counsel of MBF Card and One Card Corporation from June 1998 to May 2004, Special Assistant and Chief Legal Counsel of the Government Service Insurance System from September 1992 to June 1998, Director of the Meat Packaging Corporation of the Philippines from September 1992 to June 1998, Corporate Secretary and Chief Legal Counsel of ComSavings Bank from September 1992 to June 1998, and Executive Director of the Department of Interior and Local Government from 1988 to 1992. Mr. Aquino has been a member of the Integrated Bar of the Philippines since 1978 and is also a member of the Capitol Bar Association, Knights of Columbus, and the Lawyers League of the Philippines.
ROBERTO S. GUEVARA
Independent Director
Mr. Guevara has been an Independent Director of Megaworld since June 2001. He is chairman of the Board of Directors of Seed Capital Ventures Inc. He serves on the board of other companies, such as G&S Transport Corporation, a licensee of Avis Car Rentals, Guevent Industrial Development Corporation and Radiowealth Finance Corporation, and as Independent Director of First Centro, Inc. and Kalahi Realty, Inc. Mr. Guevara graduated from San Beda College in 1974, and received a graduate degree from the Asian Institute of Management and a postgraduate course at the Institute for Management Development in Lausanne, Switzerland.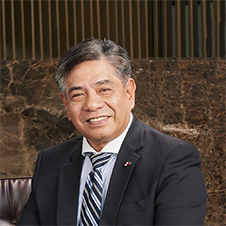 JESUS B. VARELA
Independent Director
Mr. Varela has served as Director of Megaworld since June 2016. He concurrently serves as Independent Director in the boards of the publicly-listed Global-Estate Resorts Inc. He is also the Chairman of the Philippine Chamber of Commerce and Industry, GS1 Philippines (Barcode of the Philippines), and New Lights Technologies Inc. He is the President and CEO of the Advancement of Workers' Awareness Regarding Employment Foundation Inc. and President of the Philippine Greek Business Council and the Philippine Peru Business Council. He is also the Director-General of the International Chamber of Commerce Philippines, receiver of J-Phil Marine Shipping Inc., and member of the Committee for Accreditation of Cargo Surveying Companies.
Mr. Varela has more than twenty years of experience in the fields of marketing, human resources, international labor affairs, agriculture, and commerce, among others. He has done executive work with the Department of Agriculture, National Food Authority Council, Philippine Genetics Inc., National Irrigation Administration, Philippine Planters Products, National Agri-Business Corporation, Agriculture AntiSmuggling Task Force, and Nautical Highway Board. He served as labor attaché to Kobe, Japan, to the Commonwealth of Northern Marianas Island, and to Athens. Mr. Varela obtained his bachelor's degree in Economics from Ateneo De Manila University.
He attended training courses in Labor Administration and Policy Formulation under the International Labor Organization/ARPLA program, the Corporate Planning Course at the Center for Research Communication, Foreign Exchange Training by Metro Bank and Forex Club of the Philippines, Systems Analysis by the Presidential Management Staff, Asian Productivity Seminar and other in-house seminars conducted by the Department of Labor and the Development Academy of the Philippines.